Damn, what a year! That just flew by- what a year for some amazing highs and some terrible lows. Obviously the birth of my daughter had to be the highlight for me, work wise ive also had the pleasure to work on some super cool projects and hook up with some amazing artists and designers over the course of the year. The worst part of the year (apart from losing more sleep in 9mnths than i have in my whole life combined!) was really losing a long time over november- december just being stupidly ill. (and i really do mean stupidly ill- a flu / cold and viral infection that just totally knocked me out for weeks. unbelievable.)
CIA have released the new calendar for 2009 (which you can pick up in the cia shop) and has been winging its way out to lots of clients. This year was a 'super hero' themed calendar, again printed as a desk calendar on recycled paper and card but this time around with 4 spot colors and black. Most of the guys just went for using the colors purely on their own with minimal overlap or overprint which to be honest was probably the sane thing to do as the majority of the images kick ass with the super hero / comic coloring theme.
Of course i couldnt just do something that simple and went for a total overprinted image that hasnt really come out as well as i had hoped. It seems to be quite washed out- something i really didnt expect, then again it was an experiment and in general im happy with the image. Here is the calendar and an rgb version of my page illustration.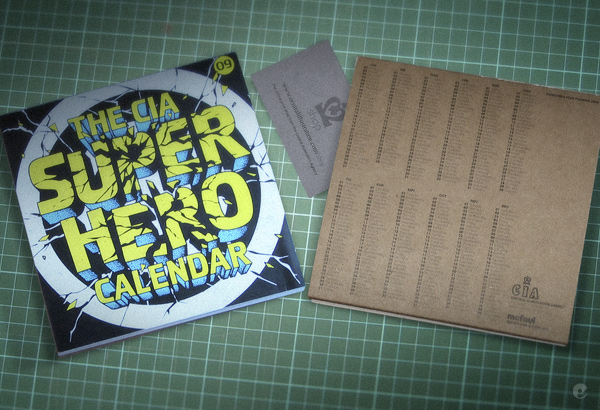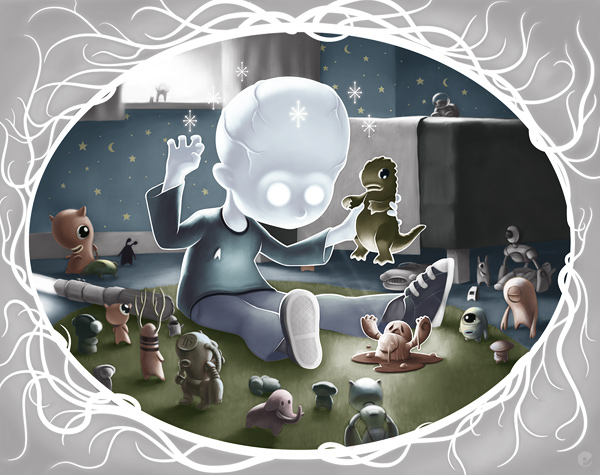 Looking forward to 2009 im working on a new body of work that will eventually go to replace the current portfolio book 3 on the mostlywanted site. At the moment its taken up with a couple of good pieces- but the majority are really sketches and concepts, i really want to create another style of work to help broaden my client base a little. Hopefully some work will start filtering through here before the bulk of the work is added to the portfolio. In other news, im still trying to get the shop sorted, only a few images are available as prints from imagekind now as i eventually start trying to close that account down and handle the prints myself.
So thats about it for another year, hope you all get to have a good holiday and new year and get to enjoy any time you have managed to grab off this season, im back off to finish nibbling some mince pies and other delightful xmas fodder. Back in the new year!